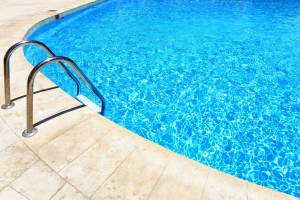 We know that homeowners are always looking for ways to improve the look of their property, which may include a pool upgrade. In the past, the only option a homeowner had was to have a contractor come in and tear out the old deck and coping and then prepare the underlying layers of substrate and replace the entire system.
Today, with specially designed remodeling travertine pool coping, all those extra steps are no longer a mandatory part of your pool upgrade and renovation. The coping is designed to fit simply over the existing coping; concealing the current material and giving you a new look to your pool at a fraction of the cost of a full tear out and rebuild.
Time Saving
Our customers who are doing their own deck and pool remodeling or upgrades find this option particularly appealing. Without the need to pull out the old coping and pavers, you don't have all the extra time, not to mention the energy and effort required in taking up the old deck.
Also, you will save the cost of having to dispose of the old patio material. This will save you time and well as money, which gives you additional budget for your new materials purchases.
Features to Consider
To truly be effective as a remodeling travertine pool coping this specialty coping has to be very comprehensive in its ability to complete cover any existing coping. With a full four inch turn, any of your old, damaged and uneven bullnose and coping will be easily covered. Your pool edges will have a comfortable rounded edge, perfect for getting in and out anywhere along your pool.
We also like to point out the top remodeling travertine pool coping comes in a range of different colors. To match with virtually any colored pavers, we often recommend an ivory coping, which is not a solid color but also includes the variations of beiges and cream so indicative of the travertine stone.
Tumbled travertine with its slightly irregular surface is a beautiful look at any pool. It is enough like an unprocessed stone to give that earthy, natural look at feel yet the tumbling process gives it is sophistication and elegant weathered look a well.
We know there isn't a better product on the market for a pool upgrade than specialty remodeling travertine pool coping. To see what we mean be sure to take a look in person to see the beauty of this product.