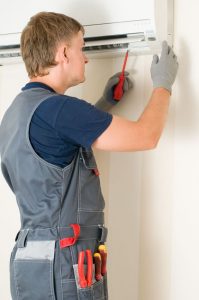 Are you searching for AC repair in Mayfair or Avondale? If you are, you've come to the right place. American Home Heating is a Chicago HVAC company established in 1962 that is still family owned and operated. We are well known for providing top-notch service in Chicago's many neighborhoods.
Having a reliable air conditioning technician is essential to the health and operation of your central air conditioning system. By servicing your unit once a year through preventive maintenance, you can save money on energy bills and extend the life of the system. Servicing your central air annually through preventive maintenance also allows our technicians to catch potential problems when they are small before blossoming into major repairs that cost a lot of money.
When the time does come for AC repair in Mayfair or Avondale, you'll know that you are dealing with a reputable company staffed by technicians who already know your system. Our courteous staff will always patiently and fully explain what repairs need to be done. We pride ourselves on courtesy and attention to service in addition to being one of the most reliable HVAC companies around.
No matter how well you maintain your system, it will eventually begin to wear out and not perform at peak efficiency. If you're experiencing frequent breakdowns or if your system doesn't appear to be cooling well, it's probably time for a new one. We'll send one of our most experienced staffers out to your home to assess your needs. Bigger isn't necessarily better. We will properly size your home, taking factors such as the number of windows, people living in the building, etc., in addition to square footage, to recommend units with the proper size.
Don't take a chance. Contact American Home Heating for the best AC repair in Mayfair and Avondale. Like us on our facebook page.