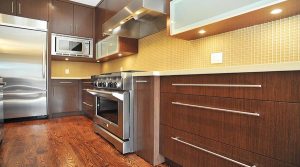 The kitchen is one of the most expensive rooms in the home to overhaul. Kitchen cabinets can easily eat up more than half of your allotted budget. Kitchen cabinetry doors can be easily removed and replaced with less expensive laminate veneer or wood doors for a fraction of the price. Of course, if your cabinets are more than 30 years old or are compromised with dry rot or other structural issues, you may have to bite the bullet and buy all new cabinets to have installed in your kitchen.
One of the greatest benefits of refacing your cabinets is that your kitchen remains functional and appliances can stay in place while you do the updates. With a refacing project, you can take your time and slowly upgrade since you are not completely disassembling your kitchen. Many people who choose to reface their kitchen cabinetry doors elect for an MDF, or medium density fiberboard, product. Not only is MDF one of the most affordable options, it is also environmentally friendly. MDF is made from recycled wood waste. This material would otherwise be sent to a landfill or dump. Instead, it is given a second life and turned into a viable product. Many modern home furnishings are made from MDF composite. MDF cabinet doors have the wood-look finish that people love, but they are much more affordable.
Lovech LTD, http://lovech.ca/, is one of the best sources for MDF cabinet doors in Toronto, Canada. They can accommodate any custom order, and they have a vast array of colors, sizes, shapes, styles and finishes to choose from in their facility. From junk drawer fronts to silverware doors and tall pantry cabinets, Lovech LTD can give you the brand new kitchen of your dreams at a fraction of the price.