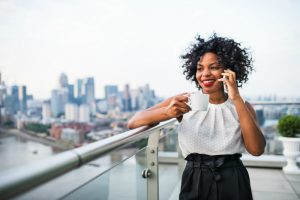 Railing systems for rooftops are an essential protection against falls. Many guardrail and railing systems are completely customizable to conform to various rooftop layouts. Although they can be both temporary and permanent, a common choice is the permanent non-penetrating option. Most systems assemble directly on the roof surface.
Rooftop Railing Options
These galvanized and aluminum railings meet the fall-protection needs of industrial and commercial environments. They easily assemble without welding and can adopt various colors with a powder coating.
• NextGen 3000® Railings – this system is made in the US and meets OSHA standards prescribing railing systems for fall protection at roof edges. This system is modular, lightweight, and easy to set up. The non-penetrating railings won't disrupt roof membranes, and they have a safety yellow or galvanized finish and can be temporary or permanent.
• Portable KART-A-RAIL® Systems – The Kart-a-Rail rooftop railing system is OSHA compliant and designed to guard against workers falling from roofs. It also protects machinery; guards open pits and holes, and prevents access to danger areas. The system can also implement fall-protection kits with fall-arrest and fall-restraint attachment points.
• KeeGuard® Railing – The KeeGuard® Railing is non-penetrating, free-standing fall protection for roof edges is compliant with OSHA and Canadian standards and includes counterbalancing with recycled PVC weights. It can also be modified to work with standing-seam and corrugated roofs.
Rooftop Railing Safety Products
A safety rooftop safety company with OSHA compliant fall-protection designs can adapt designs or drawings by clients, put together custom kits that assemble easily with just a 5/16-inch hex key, and ship them right away. These systems are ideal for hotels, institutions, manufacturing facilities, and hospitals. Contact Safety Rail Source LLC at (877) 723-3766 or visit https://safetyrailsource.com to learn more.