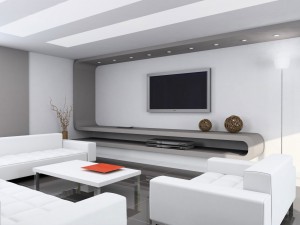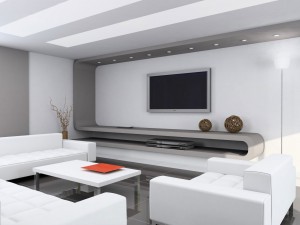 Home makeovers are more popular than ever, and an online search for home decorating ideas yields about as many hits as there are houses on earth. But let's face it – most of us spend the majority of our time outside of our houses, at work. For millions of people, that means that the walls we're seeing and the furnishings we're sitting in (or standing next to) aren't created with aesthetics in mind, but rather utility. It need not be that way. Whether you spend your workday in a corner office or a cubicle, there are thousands of possibilities for interesting office décor, from dry erase wallpaper to interesting, innovative shelving.
Cubicles have been the bane of office workers for decades now, but they were originally conceived as an improvement – a way for a large pool of workers to work in a shared space without them distracting each other. As personal spaces go, they offer little in the way of privacy, but there are lots of things you can do to make the cube your own. The nice thing about cube décor is that you can go subtle or whole-hog depending on your tastes (as well as company policy and your co-workers' tolerance). Simple touches like framed photos or prints and plants are easily added and affordable. If you want to go more elaborate, wallpaper your cubicle to suggest just about any décor you might find in a permanent structure, from fake wood paneling to art-deco prints. Make sure you leave room for functional objects – a freestanding perpetual calendar or a dry erase board in a color other than white are both pragmatic and aesthetic.
When it comes to decorating at work, offices offer a bit more in the way of possibilities. Before you approach a workspace redesign, think about what you want to accomplish. Do you want to make the space more ergonomic? Look for furnishings, lighting, and functional items that lend themselves to ease of use and physical comfort. If you want a workspace that fosters the development of ideas, think about combining utility and creativity with something like dry erase wallpaper or paint. A dry erase wall serves both functional and aesthetic goals, depending on what you fill it with. But wallpaper doesn't have to be useful to be part of your office décor. Indeed, covering even one wall with a bold or tasteful pattern can transform the space dramatically with depth and warmth. But remember, even if you're limited because of policy, budget constraints, or time, you can still make your workspace inviting. Sometimes, decorating your office can be as simple as rearranging the furniture or clearing out clutter.
Wolf-Gordon can supply all your wallpaper, dry erase wallpaper, and other home designing needs. Visit in person at one of the following showroom locations: Los Angeles Showroom Pacific Design Center at 8687 Melrose Ave., Suite BM5 Los Angeles, CA 90069; Chicago Showroom Merchandise Mart at #10-161 200 World Trade Center Chicago, IL 60654; or visit http://www.wolfgordon.com/. To obtain samples or for general information, call 800-347-0550 or email info@wolf-gordon.com.