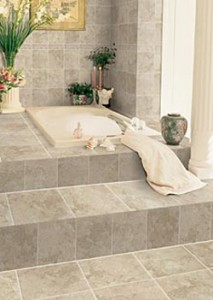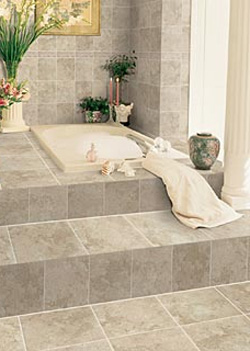 Homeowners who are building a new home or who want to remodel an existing one have hundreds of flooring options available to them. There are hardwood floors and laminates. Carpeting or stone. Even environmentally friendly materials like cork or bamboo. In fact, the options are so varied that it can be overwhelming to make a final decision on what is best for the family's needs. One option that Austin residents who are looking for an ultra clean look to their floors to consider is ceramic tile.
Because ceramic tile can be fashioned to fit any décor, it is a flooring option that will work in any room of your house. Every floor will require, of course, some amount of maintenance and cleaning to keep it looking its very best, but ceramic tile is about as maintenance-free as a floor can be. A sealant applied to the tile at installation and re-applied every four years or so will provide a protective coating to your ceramic tile. Wiping down the tile with a damp cloth or mop will usually remove any dirt or soil that accumulates. If heavy soil or stains are present, a mild detergent can be used for cleanup.
One of the many advantages to ceramic tile, both in terms of cleaning and its utility, is the fact that the grout and sealant makes it perfect for areas of the home where water is an issue. It is easily cleaned, because there is no limit to the amount of water to which it can be exposed. It is great for bathroom and kitchen flooring for the same reason. Whereas other floors may require expensive or harsh chemicals to keep them clean or need to be wiped down immediately if any amount of liquid comes into contact with them, ceramic floors are durable, attractive, and utile.
Sometimes, Austin homeowners balk at the cost of ceramic tile compared to other flooring materials. However, when longevity, durability, and ease of maintenance are factored into the equation, ceramic tile is an extremely affordable flooring material. Though it is true that another floor may be installed much less expensively, that savings quickly dissipates when a new floor has to be installed in 5-10 years because of wear and tear of the cheap materials.
When looking for durable, attractive, affordable, and low-maintenance flooring in Austin, homeowners will be pleased with the options, colors, patterns, and textures that are available with ceramic tile. Visit a floor supply company in Austin today to discover the options you have with tile flooring, or check out the possibilities online.
Austin Ceramic Tile – For over 25 years, Floor King has been the top quality flooring company and installation center for homeowners, builders, and businesses in Austin. We have built a solid reputation for superior service and craftsmanship in Austin for ceramic tile and other quality flooring options. With over 900 stores in our co-op, we get the lowest prices from the best manufacturers and pass the savings on to you. Visit us online at website.