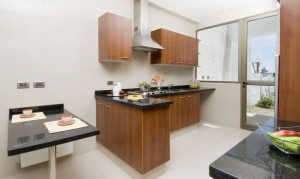 If you have found that its time to do new home flooring in your property, then you will likely be bombarded with a number of options to choose from. In today's market, there are more home flooring options than ever, and more choices to pick from for every room in your home. The flooring you deiced on is important for a number of reasons. The floors in your home can greatly impact the entire look of your property and make sure it is more functional as well. Functionality is a very important thing to keep in mind when it comes to home flooring options and something that will want to be valued especially in rooms that get a lot of use such as kitchens, laundry rooms and bathrooms. This is why for many homeowners the best flooring option for these highly used rooms is tile flooring.
Tile flooring is a popular option in rooms such as this for a number of reasons. One of the biggest reasons that people choose tile flooring in all rooms of their homes, especially rooms like the bathroom, kitchen and laundry room is because of its durability. Most types of tile flooring can withstand a great deal of daily use and is resistant to things like dirt, mud or water. This means in rooms where you are likely spilling water, tracking in mud and wearing you shoes you don't have to worry about it leaving behind messes on your floors.
If you have kids then you know that entryways, laundry rooms and mudrooms get a lot of use and no matter how many mats you put down your kids will track in all kinds of dirt, snow and mud. However, the good news is when you have tile flooring in these rooms, these messes can be easily wiped away and your tile flooring will still look as good as new. This is why tile flooring is great in rooms like this, but it is also great in places like the kitchen and the bathrooms where you are likely to spill water on the floor.
While there are some flooring options like wood or carpet that can get damaged from too much water, you never have to worry about water damage on your tile flooring. Instead you can wipe up or soak up any water you get on your floors from the shower, sink or spills while cooking and never have to worry about your floors getting damaged. This is why so many homeowners will decide to have tile flooring installed in the home and why if you are considering this flooring option you will likely be happy with your choice. All you need to do is find the right retailer to help you get your new tile flooring installed.
If you are thinking of having your home installed with tile flooring in Fairfax then visit the professionals at Image Kitchens and Floors. They can be found online at