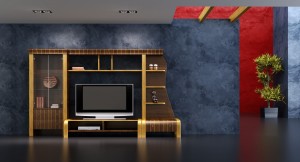 It is understood that the kitchen is the room in most homes that the family seems to spend the most amount of time in. Meal preparation takes place in the kitchen as well as any number of visits to grab a snack or a drink. It also goes without saying that the kitchen receives the greatest amount of wear and abuse, especially the kitchen cabinet doors Kitchen cabinets are exposed to many environments that the rest of the home is not. The air in the kitchen often contains microscopic sized particles of cooking oil that finds its way to kitchen cabinet doors. Some cabinets are exposed to heat and regular food spills that are very hard on their finish. Kitchen cabinet doors in particular are regularly exposed to human contact and the grim that is commonly associated with working hands. Even with the most diligent of cleaning practices, all these environments take their toll on kitchen cabinetry.
So why, with the kitchen receiving the most wear and tear of all room in the home, do homeowners rarely if ever restore the kitchen cabinetry? Unlike decades ago when restoring kitchen cabinetry was a difficult and costly undertaking, doing so today is both simple and cost effective. Kitchen cabinet doors in particular, can change the entire look and feel of the kitchen and thanks to the internet, do it yourself can shop for a new look from the comfort of their couch.
For the average size kitchen, refinishing the cabinets can be accomplished over a weekend with proper preparation. The new kitchen cabinet doors can be finished ahead of time leaving only the kitchen cabinet boxes to be sanded and re-finished. The work is not hard, just a little dusty but in just a few hours all the kitchen cabinet boxes can be sanded and prepared for finishing. Depending on the type of finish being used and the number of coasts that will need to be applied will determine exactly how long the project will take and if the project is too large, it can be broken up over multiple weekends.
With the finished dried and the new kitchen cabinet doors installed, that old kitchen will have a fresh new look and will be ready for the inflow of family traffic.