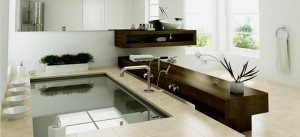 Have you been considering starting a project that involves bathroom remodeling? If you have not been keeping up on the recent style changes in bathroom decorating, then you may want to check out the options available at Bath Trends USA. Bath Trends carries everything you will need to completely renovate your bathroom. You will have a wide selection of stylish tubs, sinks, fixtures, faucets, toilets, and bidets to choose from for your remodeling project.
One of the biggest decisions for Bathroom Remodeling in Miami is what kind of bathtub to install. The bathtub is generally the largest piece installed in a bathroom, which often makes it one of the main focal points. The two most popular types of tubs in bathroom remodeling are currently the standard drop-in style of tub, and the more luxurious stand-alone soaking tubs. Depending on the size and design of your bathroom, one or both of these tub styles may work in your home. The main difference between a stand-alone tub and a drop-in tub, besides the overall appearance, is the price. Freestanding bathtubs come with a considerably higher price tag than most drop-in tubs; in some cases the difference can be over a thousand dollars. Purchasing even the lowest priced soaking tub will run you somewhere between $1100 to $1200, while even a more expensive drop-in tub is unlikely to set you back more than $500 to $600.
There is one additional and important issue to consider before deciding whether to install a free-standing tub or a drop-in style tub. You must consider how your homes current water and plumbing system will work with the new tub. When you purchase a drop-in tub, plumbing is not usually a problem. As the name suggests, the tub is able to be placed in the same spot as the old tub and hooked up to the same water and plumbing lines. In cases where a switch will occur from a drop-in tub to a freestanding tub, the transition is not always so seamless. In most cases a free-standing tub will not be placed directly where the old tub was located; so it may be necessary to have a plumber evaluate your current set up to determine what plumbing changes or upgrades may be needed. In some houses the necessary plumbing changes may be minor, but a complete overhaul is always a possibility.