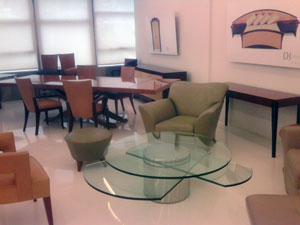 The atmosphere of your home is dependent on a number of factors, including the floor covering. The color, style, texture and feel of the flooring will help to set the tone and the mood for the room. Choosing the best flooring from Hoffman Floor Covering Corporation may require some thought because each type of flooring has its own unique qualities. Fortunately, there is a wide range of options to choose from, so there is a style to suit anyone's taste and budget.
Hardwood has been used for centuries as the primary floor covering in homes of all sizes. Hardwood floors are durable and come in a wide range of sizes, wood types and colors. This type of floor typically enhances the resale value of the home as well as adds a warm character to each room. Hardwood flooring varies in price depending on the type of wood selected, the plank size and the amount needed. The most popular type of wood used for hardwood floors is oak; however, birch, maple and pine are also popular choices.
Carpeting is often used in areas where a softer floor is desired, such as a bedroom or family room. Carpet is available in rolls or tiles and is typically quick and easy to install. There are hundreds of styles, colors and textures to choose from, and many carpets are stain resistant. The maintenance is fairly simple and only requires routine vacuuming. If it is installed in an area with high traffic, occasional steam cleaning may be needed.
Laminate flooring is quickly becoming a popular choice for many people who want the look and feel of a hardwood floor but want something that can resist dings, chips and scratches. Laminate is typically less expensive than hardwood, and it is commonly used in homes with pets. The maintenance of laminate flooring is easier than hardwood as well because it does not require refinishing, sanding or routine waxing; simply sweep and mop on regular basis to keep it looking great.
Ceramic tile is typically used in areas such as the kitchen and bathrooms; however, it is also often used in areas where there is a risk of water damage to wood or carpet, such as entryways. Ceramic tiles are available in several sizes, shapes and colors and can be used on walls as well as floors. Maintenance for ceramic tile is easy and only requires sweeping and mopping.