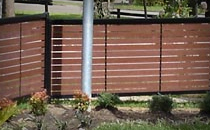 When planning a new deck or having to repair an existing deck compare composite decking as a viable and clever alternative. Composite decking is usually made from recycled industrial waste, some used plastic waste and some sort of wood by product such as sawdust so it is environmentally friendly and you would be playing your part in saving old growth timber forests and rainforests.
Benefits
They include –
Very low maintenance, this would have to be the biggest benefit
No painting required for the life of the product, they come pre-painted
Resistant to termites/white ants, ideal for Australian conditions
No knot holes or splinters
No cupping or warping
No splitting or twisting
Easy installation
Slip resistant, safe to use anywhere
No sap runs or tannin leaching
Won't rot
Low water absorption, great for the tropics
When you compare composite decking to traditional timber and consider these benefits, you will see the annual saga of restoration goes away. No painting ever and no sanding and due to the low water absorption and therefore no warping or splitting, and no expensive replacement of boards.
Even though decks come in many shapes and sizes – sundecks, pool surrounds, verandahs, private courtyards, gazebos, and walkways, composite decking is suitable for all these uses.
Maintenance
The ease of maintenance is also highlighted when you compare composite decking with the usual timber options. Sweeping regularly and then washing with a mop and you are done, just like any other flooring. The regularity of cleaning will depend on the amount of leaves or dirt which ends up on your deck from nearby vegetation as well as general dirt and grime which builds up from regular foot traffic.
Things to consider when you compare composite decking includes comparing the composite options not just against natural timber as composite board can be made up of differing substances and can also be bound with different fixatives. As some components may not be fire retardant this could be an influence on your decision.  There are Australian Standards which specifically exclude the use of combustible verandah and decking materials, depending on the Bushfire Attack Level (BAL) rating.
When you compare composite decking with timber materials, think environment, endurance, expense and easy maintenance. As a deck should be about leisure, there's nothing more relaxing than knowing it won't be another chore needing your attention.
You can compare Composite Decking products online. One of Australia's leading manufacturers of Composite decking is Futurewood – www.futurewood.com.au