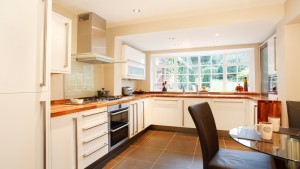 Upgrading and remodeling your kitchen to a more contemporary look can have a lasting impression on home dealers. Creating an appliance garage door for your kitchen is a unique idea that will allow you to keep all the unnecessary items on the top counter to the garage like spaces.
These doors come in a modern design, which has a tambour type rolling up door, allowing you to store all your kitchen appliances in them without any hassle. Regularly using these doors means that you they will also require regular servicing. Here are some repair steps that you can follow to adjust your kitchen appliance garage doors when they have problems.
Step #1 Empty the Garage
In case of any issues closing and opening the doors, ensure that they are adjusted properly. The first step is to remove all the appliances that you keep in the kitchen garage door and unscrew the doors from the sides.
Step #2 Locate the spring
After you have unscrewed the doors, turn it over and try to locate the spring of the doors. Kitchen appliance garage doors operate just like a roll up shade, and if the springs are damaged, the doors will not operate properly at all. So take your time to inspect them well.
Step #3 Check the Sliding Channels
Every garage door has a sliding channel on its sides. Scan the sliding channels properly to ensure that nothing is blocking the roll up process. If these channels become loose or have some dirt in them, then the doors won't slide upwards in the proper way. For smooth sliding and rolling up, use a damp cloth to wipe the channels.
Step #4 Adjust the springs
After you have cleared all the channels, and tracks, search for a couple of rollers and dowels at the top cabinet section. Adjust the springs on the dowels and screw them up tightly. Try not to tighten the screws excessively or they will break. Screw them until the springs adjust properly.
Step #5 Set the Doors in Place
Once you have adjusted everything, put the kitchen appliance garage doors back in their original positions and screw them. Make sure that you do so gently and carefully. Don't rush the process or you'd risk completely damaging the doors.
There are several other methods and techniques that you can use to readjust your appliance garage doors, however if you are not a professional, then you can use these steps to keep your storage doors rolling properly. In the end, if the problem persists and the doors don't close or open properly, then call an expert who will guide you well and repair them at reasonable and affordable rates.