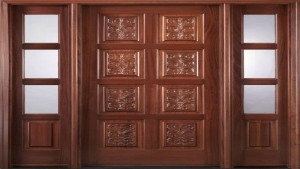 The outer appearance of a home says a lot about one's personal taste, pride, and appeal, among other things, but it also either makes or breaks a property. Just like people, homes can make a first impression, especially when they are on the market. Since doors are the key holders to making first impressions of the house itself, ensuring that a quality door is chosen will make all the difference in the world.
Material
Depending on the location, climate and other surroundings (siding, roofing…) conducting research on the types of different materials doors can be made of is imperative. Front doors need to be able to withstand anything; they are essentially the safety of your home and family. They are the one piece that allows people in and out of your home. Different materials will range in price, but they will also change the overall appearance of the house.
Once a material has been chosen, the thickness of the door will be the next important step to consider. Doors vary in thickness and weight. Any door that is going to be an exterior door should hold a good amount of weight to it, be solid, and either be constructed from PVC or solid wood. Wood doors have the ability to be stained in different colors, while PVC doors can be painted. The different woods will offer different looks too. Some people may prefer a mahogany door, while others like the natural beauty of cedar. As mentioned before, the type of door chosen will tell what type of taste the homeowner has.
Double or Single Doors
Some people prefer the look and appeal that a single door has to offer, while others would vote for double doors. Double doors can serve many different purposes, but for those individuals who enjoy grandeur, double doors are a suiting fit. A great feature with the double doors is that both of them can open, and who wouldn't agree that twice is just as nice, if not nicer? With beautiful and intricate designs, there are many different double doors to choose from.
Hinges
Double doors provide a great deal of safety as well because they have different latching mechanisms. They are constructed of symmetrically hanged doors and typically hinged on opposite sides of each other. Whether you choose two solid panels or double doors with window inserts, they look beautiful standing next to one another. Since there is such a large frame accompanied by two solid doors, the hinging on the double doors allows them to swing in opposite directions as well as in the same direction, therefore, making them more versatile than the single exterior door.
For those who enjoy outdoors or have active families, double doors can offer many different benefits. The overall aesthetics of the house will all be tied together with this one purchase, so think about what the house will look like with the different options available.