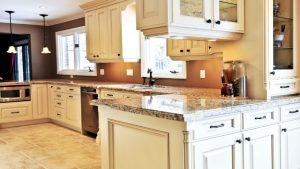 Although kitchen cabinets seem pretty basic, when it comes time to select new ones for a home update or a new build, you realize just how complex they truly are. Select the wrong style or fail to make the most of their function or purpose, and it is a costly and upsetting blunder. Yet, how do you go about the process? With the overabundance of DIY sites and stores emphasizing this approach, it puts a lot of people at risk for making mistakes even when consulting with so-called experts. That is why we offer the following tips:
Consider quality – Kitchens experience some of the most extreme wear and tear in the home. Rather than choosing first on price or basic looks, think about quality. Yes, a laminate countertop and less costly cabinetry might look "okay" but you will find yourself replacing them quickly. If you opt for quality cabinetry and countertops of marble, quartz or granite, you'll fare far better.
Consider your lifestyle – While kitchen cabinets can be configured to almost any footprint or floor plan, the best choices are those fit your actual lifestyle. For instance, a wine rack looks amazing, but if you are not big on wine drinking, well… The same goes for lots of overhead storage or other options. Figure out what uses those cabinets need and make choices based on that.
Think beyond cabinets – We already mentioned the fact that choosing kitchen cabinets means choosing quality, including the most durable countertops. Also consider the general look of the space, including lighting, flooring, fixtures and more. Without envisioning the cabinets next to the appliances and the rest of the room, you run the risk of poor choices.
Consider expertise – When choosing cabinets, it is best to work with a firm that actually installs them for you. This is no laughing matter and certainly not a DIY project, unless you are a builder! They can also handle measurements to ensure that there are no mistakes made when placing orders.
Take a shortcut – Instead of worrying and fretting about all of those points above, just head to a kitchen cabinets expert and sit down with them to work out the best solution. They can make all kinds of suggestions and recommendations and will work with your budget and personal vision.
One such firm is Omega Kitchen & Bath. With more than 30 years of experience in cabinetry for kitchens and baths, as well as premium countertops, they can ensure you make all the right choices. You can also visit them on Google My Business.