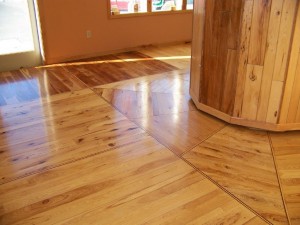 While hardwood flooring in Skokie, Illinois looks amazing, without proper care and maintenance it can easily get scratched, develop a dull appearance or get gritty with dirt and grime. Hardwood floors do not require a lot of maintenance but a regular cleaning schedule in important.
Depending upon the type of your hardwood flooring in your Skokie, Illinois home, the maintenance may vary a little but the basics remain the same.
Care and maintenance of solid hardwood flooring
The care and maintenance tips below will work for all types of solid wood, like, oak, pine, cedar, cherry and walnut.
It is highly recommended to keep floor mats and rugs at all entrances. This will catch the dust and dirt from the bottom of your shoes. Regularly clean the floor with a brush with soft bristles to remove dust particles. Do not use a coarse brush as it will scratch the floor. If there is a dirty, stubborn stop then use a treated dust mop to clean it away. Refrain yourself from using water on the solid hardwood floors. Always use a mild, neutral cleaner specially designed for solid woods.
If there are accidental spills on the wood floor, wipe it immediately with a soft cloth. You can dampen the soft cloth with warm water for sticky spills.
Care and maintenance of engineered hardwood flooring
Engineered hardwood floors resist moisture better than solid wood and are easier to clean and maintain.
Use a soft brush or a vacuum cleaner with soft flooring attachment to remove surface dust and dirt. While mopping the floor use a slightly damp mop but make sure that it is not soaking wet. Use mild, bleach-free cleaning products that are especially made for engineered hardwood. You can also use a mix of vinegar and hot water with a teaspoonful of dish soap without any bleach. This mixture will help to clean tough spots.
Use entrance mats and rugs on all entrances to catch dirt and dust as these particles damage the finish and make it look dull and discolored. Do not use oils to clean the floor. It will soften the wood as it seeps in thus making it hard to refinish it in the future.
Refinishing hardwood flooring
If your hardwood floor has become dull in appearance and waxing doesn't help much or if there are worn or bare spots with scratched surfaces in more than one place, consider refinishing. With refinishing, you can also change the color and sheen of the hardwood flooring. You can transform from a pine finish to a cherry red finish.
With normal usage and average wear and tear, refinishing is recommended every five years but this might vary depending upon how extensively the hardwood floor is being used.
You can do the refinishing yourself but hiring professional help for hardwood flooring in Skokie, Illinois is highly recommended.