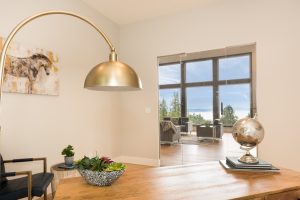 Choosing a nice desk lamp can really bring your bedroom, study, or office space together. Not every desk or table is compatible with every small lamp, though, so understanding how to pair the two will help you make the right match – and create a coordinated look that will brighten your whole home!
Start with Spacing
Where will your lamp sit? This depends on several factors, including where your outlet is, how much of the table space you need to be able to use, and whether you want a lamp in the center of the table, at a corner or side, or as one of several lighting pieces in the space. Where you put your lamp can help you choose a piece the right size for the job.
Understand Your Style
Do you want something sleek and modern? Understated and elegant? Stylized and fashionable? What kind of look you're hoping to achieve can be a major influence on which lamp you select. Lamps are available in all kinds of looks, from sleek, simple silhouettes to complex, intricate designs with delicate, decorated surfaces. No matter what you're looking for, there's a lamp design to match your style.
Think Outside the Desk
If you're looking for something nontraditional, you have plenty of options. Consider a lamp that hangs from the ceiling above your desk, or one that cranes over your desk instead of sitting on top of it. You could choose a lamp that doesn't use a bulb at all; many designs are available that illuminate across the entire piece's surface, making a grand display of lighting your space.
Whatever you're looking for in a desk lamp in Victoria, BC, you can find it with your local specialty lighting retailer. Contact your nearest retailer today to learn more about your many options and find out just how affordable and fun it can be to shed more light on your study space.